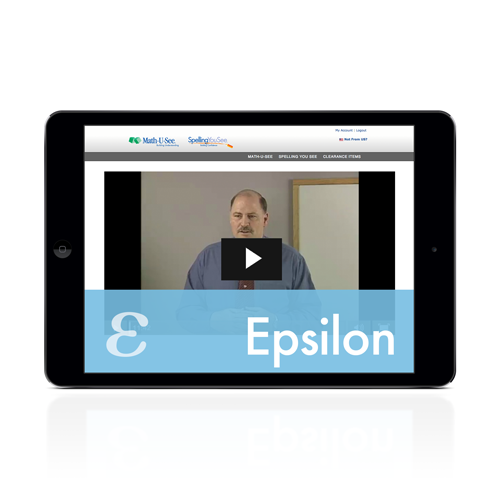 For this review, Caden was able to access and use a year long subscription to the Epsilon digital pack from Demme Learning for Math-U-See. He is currently using the level called Epsilon, which has a focus on fractions, in addition to many other topics. Since Caden had just begun working in the Epsilon book, this review came at the perfect time.
We do own the DVD instruction disc, but I have found that being able to access the lessons on the computer has been a huge benefit. This is simply because I have 4 kids, who all use Math-U-See. That means every time someone has a new lesson, there is a scramble for the DVD player. Imagine my relief when Caden could simply go to the computer (or watch it on the ipad) for his new lesson instruction.
Also included in the digital pack is the ability to access the manipulatives online. For Epsilon this is especially nice because the manipulatives are accessed by a simple click of the mouse. I find this much simpler to use.
Caden did enjoy using the manipulatives online as he has completed his lessons each week. He spent a fair amount of time simply playing and exploring on the manipulatives site, which I thought was great. He was simply learning by playing, something that is so important for kids of any age!
So far I'm very impressed with the Digital Pack from Demme Learning and Math-U-See. This is something that I will continue to consider purchasing each year as needed for my children.