This is actually our first experience with Heirloom Audio Productions. My kids love audio dramas and audio books, so they have also enjoyed listening to Beric the Briton. This adventure sure takes some concentration while listening so you can follow the story and really understand what is going on. Set during the time period of ancient Rome and Emperor Nero, there is enough action and adventure to keep the listeners engaged and entertained for several hours. We listed to the first half of the adventure while on a short road trip.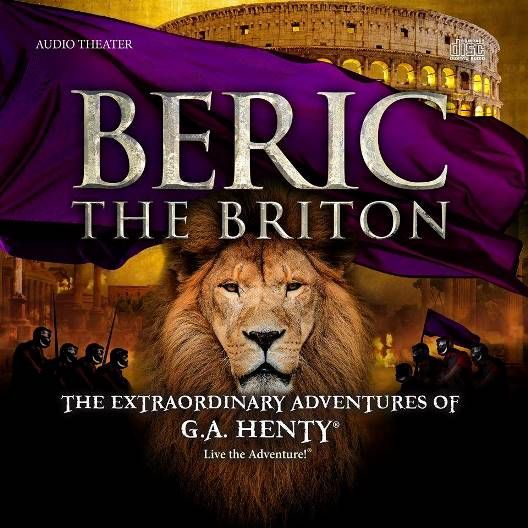 What I also love about these productions is the extras that are included with it. We received a physical copy of the discs, but the online portion included an mp3 download so we could be able to upload the audio theater to the iPad or iPhone for each child to listen to on their own. Other extras included a study guide, ebook, soundtrack, behind the scenes video, and posters. I actually think uploading the ebook onto an e-reader of some sort would be an excellent way to increase reading comprehension as the student follows along with the mp3 or the discs.
The study guide is so wonderfully formatted that it is a joy to read and simple to implement. Keep in mind that the study guide is only meant to enhance your listening experience so you shouldn't feel compelled to do EVERYTHING that is in it. The study guide is a large 50 page full color ebook. I saved it to my computer, but I would also be happy to load it onto my iPad if we were going to use it away from home. I also don't think I would print this one since it is in full color. A black and white version I might be more inclined to print, but color ink is much more expensive so I tend to reserve it for photos. Background information is given for a few main characters and then each chapter has its own set of review questions. These are divided into 3 different sections: listening well, thinking further, and defining words. Also included are a few extra activities meant to enhance the learning. Following the study guide questions several books are listed for further exploration. Three Bible studies related to the story are also listed at the end of the guide.
Each of my children enjoyed listening to this audio drama, and I think this is one that we will listen to time and time again. The tale chronicles the Roman invasion of ancient Britannia. Beric and his friend are captured and then trained as gladiators. Several celebrity voices are the voices behind the characters in this audio drama. Brain Blessed, Brian Cox, Cathy Sara, and several others add to the quality and enhancement of the drama as you immerse yourself in the time period. We are looking forward to listening to a different production at some point. While this is a very interesting time period it isn't a favorite time period of ours to study; however, the drama adds to the excitement and intensity of the time and adds an excellent layer of learning and understanding.
Would you like to read what other reviewers had to say about Heirloom Audio? Check out the Review Crew Blog for more!