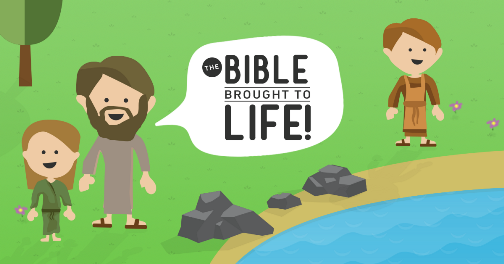 My son has been very excited to be working through the Veritas Press one-year family subscription to VeritasBible.com The family subscription allows more all students in the family to work through the programs at their own pace. My son is the only one working on this at the time. He has access to all of the lessons currently available, but chose to start at the beginning with Genesis through Joshua.
I wasn't sure what to think of this online curriculum at first. I have held off on using online curriculum for a couple of reasons. One of those is that I prefer to have a real book in my hands. Another reason is that if it's online, we most likely forget about using it. I haven't had either of these concerns with this program. It is engaging and fun. So much so that the kids want to use it. We simply write a reminder in his planner to complete a lesson.
We have the slowest high speed internet connection that is available to us. I was concerned that the internet speed would be a problem with this interactive curriculum. No need to worry. It hasn't been a problem at all. I feel like the videos stream just fine and there is no lag. We did receive a slow connection warning as seen in the picture below, but it did not affect the videos or the activities.
My son does enjoy working through the lessons. I have found myself enjoying watching along with him as well. A few times I've caught an older sister watching and learning too, but shhhhh don't tell!
I also like that the lessons encourage him to look up verses in the Bible. This is so important for many reasons! It's important for him to be able to find passages in the Bible and read and comprehend them. It's also important for kids to know that the Bible is true. By having them look up certain passages, they are able to see that yes, indeed, what the lessons are teaching is absolutely true.
Each lesson teaches new concepts and reviews old concepts with maps, matching, ordering, etc. The timeline is taught with an awesome song. The Veritas Press cards are not necessary to successfully use this curriculum, but I can see how they would be a nice concrete addition. The activities are completed online. The students cannot advance to a new section of lessons until they earn at least 1 star (out of 3). So far my guy hasn't had any trouble with passing the lessons.
I have been very impressed with this curriculum and have even checked out their self-paced online history classes. Since this Bible curriculum is so engaging and easy to use, I'm really considering more digital learning for my son. We do live in a digital age, and he seems to respond well to online curriculum.
Would you like to read what other reviewers had to say about Veritas Press? Check out the Review Crew Blog for more!